The 03 James Redwood
  "Building the 03 Redwood Cutaway was an exciting experience. Cutaways always present a special challenge when bending the cutaway section of the guitar. Extra care in wood selection and doing the actual bend are critical. Another challenge was the Curly Redwood soundboard. Here again, extra care is needed to select wood that is stiff enough to compensate for the curl in the Redwood. I feel the wonderful tone and volume the Redwood brings to the 03 complements its contemporary styling." - James Bolan
  Upon first viewing, the 03 James Redwood seems like something from a guitar lovers' dream. The seemingly iridescent nature of the Curly Redwood soundboard shows subtle changes in color as you view it from different angles. The rich purplish tones of the East Indian Rosewood back and sides contrast harmoniously with the Redwood top.

  A Honduran Mahogany hand carved neck looks good enough to pass for machine carved, with a graceful swan-like approach to the upper bout. The chrome and black Gotoh 510 mini tuners add to the contemporary look and enhance the shape of the trademark "thumb" headstock. James uses Madagascan Ebony on the headstock veneer, fingerboard, and bridge as a luxurious common thread throughout the guitar. A custom pattern of Black Mother of Pearl dots as inlay for the fingerboard lends even more creativity to the 03.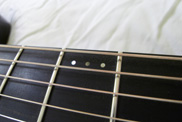 The Australian Blackwood bindings and Brazilian Rosewood rosette complete our trip around the world of fine guitar woods. The bridge pins are bone with ebony dots which nicely complement the bone nut and saddle. To preserve the natural beauty of the Curly Redwood without interruption, a clear plastic pickguard is used. A finish of catalyzed polyurethane and the inlaid "James" logo on the headstock serve as the proverbial cherry on top of this one-of-a-kind instrument.  
———
Back
---
---